Manufacture of Unique Woodworking T Track Systems
and Other Quality Woodworking Products
Welcome ttrackusa.com. We specialize in aluminum extrusions and shop accessories of all kinds. Please visit our Online Catalog Page for a quick reference index of our products.
Aluminum Extrusions For The Woodworking Shop Are Our Specialty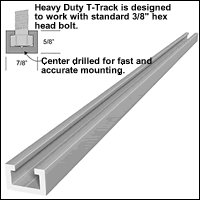 Heavy Duty T-Track
Our T-Track is made in the USA out of 90% recycled aluminum to help our environment. The T-Track has a 1/8" wall which will not bow or twist and allows for everyday heavy use. The key to our system is a standard 3/8" hex head bolt that slides into the track. No more hunting for hard to find T-bolts or special locking pieces. The T-Track is perfect for building jigs and fixtures for your radial arm saw, workbench, drill press, miter saw, and various other machines. Our T-Track also works well for mounting anti-kickback devices to your table saw fence or router table fence. Click Here For More Details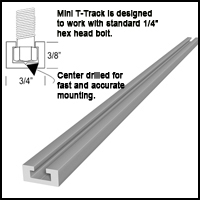 Mini T-Track
Just as the heavy duty T-Track will amaze you so will our Mini-T-Track. This unique multi-use track offers smaller size and durability when designing your woodworking jigs. The Mini T-Track system uses a standard 1/4" hex head bolt and knob. Still no hard to find locking devices are needed. Our Mini T-Track works great for those tedious jobs on your work bench, router table, and table saw. You can also use it as a guide bar for your miter slot in the table saw or router table. The smaller the job the better for this Mini-T-Track.
Click Here For More Details

More Aluminum Extrusions
E-Direct Super Savings Program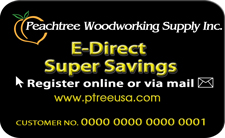 Every week our members receive great deals via the E-Direct Super Savings Program! 10 to 50% or more on the products you need and want. From abrasives to woodworking DVD's and anything between. You can only save if you join the "club"! It's simple to become a member, just click E-Direct Super Savings button below and fill out the form. We know you want to save, with this program we bring the Savings Directly to YOU EVERY WEEK!
Start Saving

Our E-Direct Specials are only available through our E-Direct Super Savings Program! Sign up today!!